| | | |
| --- | --- | --- |
| --- | Ask Yourself These Questions | --- |
Do your employees efficiently share information?
Are your computers protected from the latest malware and hacker vulnerabilities?
Is your network safe from would-be intruders?
If one of your computers fails, will you lose valuable information?
Does your technology help you succeed...or does it limit you?
Are computer problems taking up your valuable time?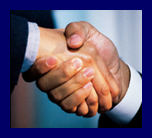 Most business owners want and need to focus their attention on their core business, instead of other areas such as accounting, computer technology, and legal compliance.
Let the expertise of panhorst.net, L.L.C. get your technology working well so that you can focus on your business.
panhorst.net, L.L.C. will provide you with as much or as little assistance as you want so that you can achieve your business goals and stay on budget.
Please review the information here and then contact panhorst.net, L.L.C. for more information.